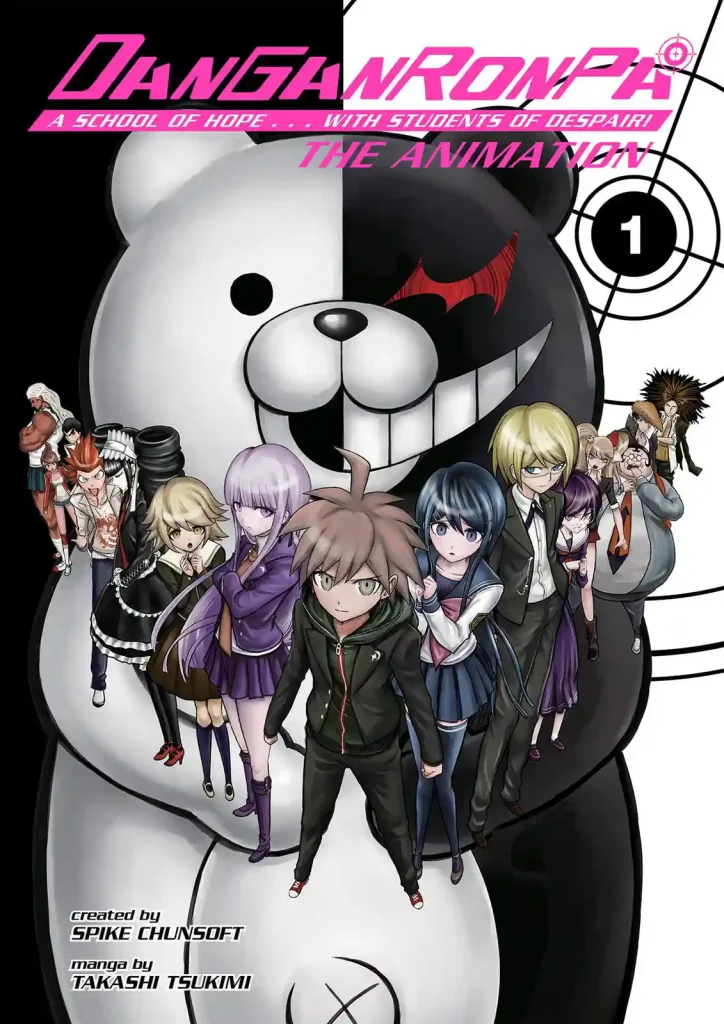 Danganronpa: The Animation
Each year, the elite Hope's Peak Academy selects only the most gifted and talented students to enroll…plus one ordinary student, chosen by lottery. Makoto Naegi was that lucky person–or so he thought! When he shows up for class, he finds the elite students are a bizarre cast of oddballs under the ruthless authority of a robot teddy bear principal, Monokuma. The bear lays down the school rules: the only way out of Hope's Peak is to not only murder another student…but get away with it, as every murder is followed by a tribunal where the surviving students cross-examine each other!
Inspired by the Danganronpa videogame series and based on the anime of the same name, the Danganropa manga is a quirky, fun, weird, and dynamic take on the high school Battle Royale genre.
Danganronpa 2: Goodbye Despair
"Danganronpa 2: Goodbye Despair is an alternate version of the events told in the manga Danganronpa 2: Ultimate Luck and Hope and Despair. That series told the story through the eyes of Ultimate Lucky Student Nagito Komaeda; now Goodbye Despair gives you the perspective of his archrival in the desperate classroom murder game, Hajime Hinata!"
Danganronpa 2: Ultimate Luck And Hope And Despair
The ultimate teenage murder game continues! In this sequel to the original Danganronpa, a new class at the (in)famous Hope's Peak Academy get a surprise school trip to a tropical paradise. Here, in the name of "hope," Ultimate Lucky Student Nagito Komaeda is willing to kill anybody and everybody . . . including himself!
Danganronpa Gaiden: Killer Killer
A sudden increase in odd killings. A world close to an end gives rise to an unprecedented master detective!!!
The story follows the motivated detective Asano Misaki & her slacker partner Hijirihara Takumi. They work in the Special Crime Investigation agency (SCI), which is in charge of cases judged abnormal or bizarre.
Danganronpa V3
WARNING: THE FOLLOWING COMIC ANTHOLOGY CONTAINS SPOILERS FOR NEW DANGARONPA V3! READ AT YOUR OWN RISK!
Based on the game of the same name, a variety of authors and artists write a large offering of short stories starring the various characters featured in the game. The stories range from being lovingly heartfelt, packed full of comedy and gags or being downright evil or messed up sometimes!
Note: These are NOT doujin. These are official comic anthologies licensed by Spike Chunsoft, the developers of the Danganronpa series.